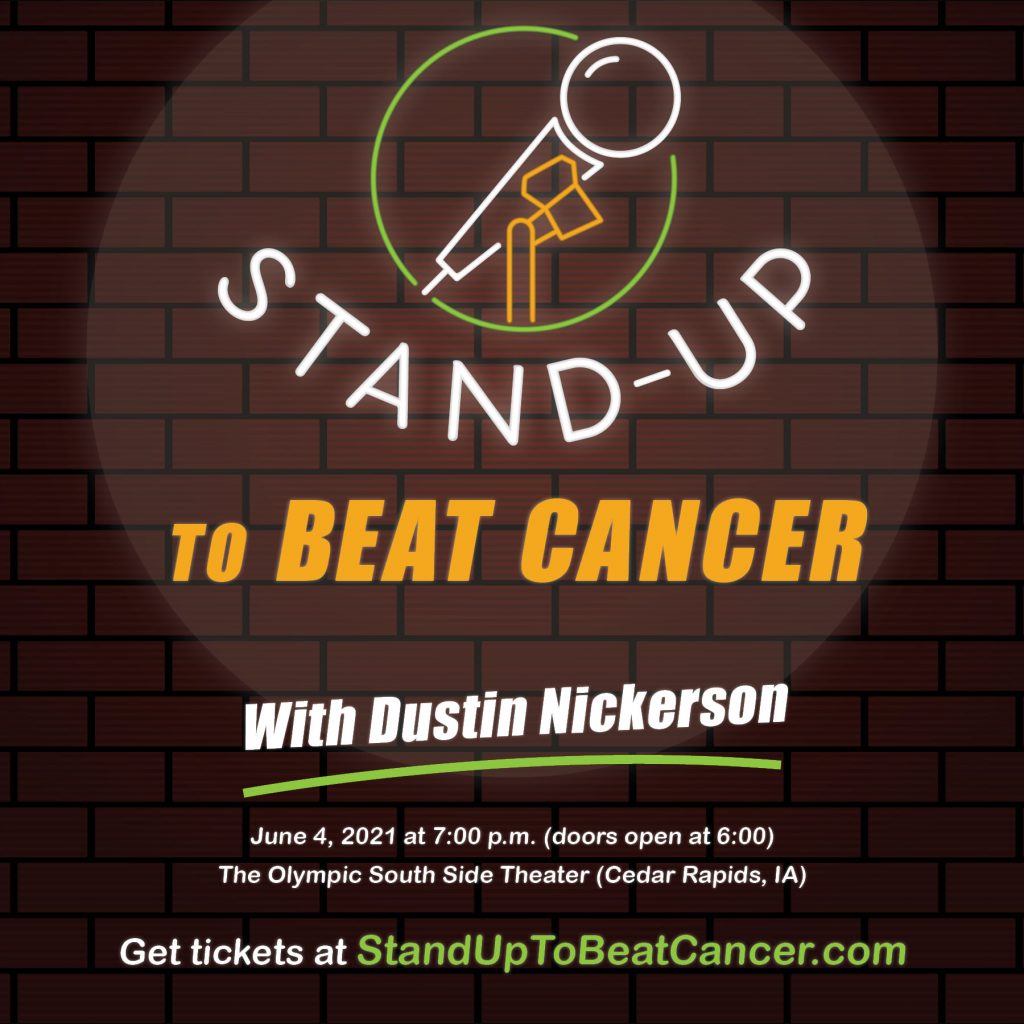 Join us for an evening of laughter and fun as we focus on the happy to Beat Cancer in 2021! Beat Cancer Today is thrilled to be featuring San Diego-based stand-up comedian Dustin Nickerson for this unique event raising money for local Iowa families fighting childhood cancer. Dustin has been recently featured on Comedy Central and Netflix with Kevin Hart, as well as Fox, Hulu, and can be regularly heard on Sirius Radio XM. His latest album Overwhelmed is available on Spotify and Apple Music and his Comedy Special is on Amazon and Gumroad.
Doors will open at 6 PM with a cash bar, event will begin at 7 PM. There will be raffle and donation opportunities, several speakers discussing childhood cancer's impact on local Iowa families, and the evening ends with a great set from Dustin. 50/50 raffle tickets and participation in the Heads or Tails game will be available at the event for $10 each. There will not be a silent or live auction. We would encourage you to support a local NewBo restaurant and grab dinner before joining us.
While hoping that the COVID vaccine rollout has made great strides by early June, we will still be following venue and updated CDC guidelines and requesting that all guests wear masks while not seated. The venue will be distancing tables and tickets will only be available as two-tops, four-tops, or eight-tops to ensure the safety and comfort of our guests. Capacity is limited to around 100 people, so this event is expected to sell out quickly!
Funds will go to BeatCancerToday.org, which is an Iowa-based 501(c)(3) nonprofit formed by Iowa families whose children have been diagnosed with cancer. Beat Cancer Today's mission is to create awareness of childhood cancers and to provide financial support for childhood cancer research via Children's Oncology Group and University of Iowa Dance Marathon, patient and family support programs through partnership with Children's Cancer Connection, and scholarships for survivors and siblings.
Tickets are available at www.standuptobeatcancer.com!