A "WAVE" OF 70,000 HUGE FOAM GOLD HANDS WAVING BACK, WITH THE UNIFIED MESSAGE TO "KEEP FIGHTING!"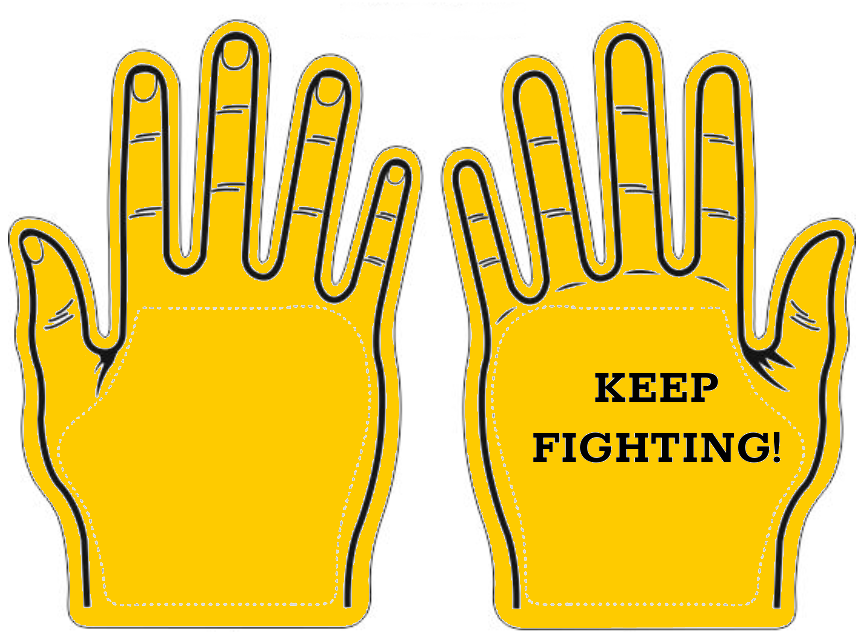 When we first saw 70,000 people "Wave" on a Saturday at Kinnick Stadium, it lifted our hearts. All of those fans and players pausing the game, just to recognize those very young patients watching from the most important seats at Kinnick, stirred us to our core. That moment of inspiration sparked a question: How can we honor this wonderful new tradition, raise money for those fighters looking down, and send a message of support, returning the inspiration they give us?
Our friends at Northwestern Mutual came up with an idea. Imagine those same warriors, looking down on those 70,000 people, but now they see a "Wave" of huge foam gold hands waving back, with the unified message to "KEEP FIGHTING!"
We liked the idea so much we ran with it. We hope you'll like it so much that you'll want a "Keep Fighting" hand too! You can purchase a foam hand here and have it shipped to your house, pick it up at a local Northwestern Mutual branch, or buy one in person at FryFEST on August 31st!
All proceeds raised from the #WaveToTheKids campaign will be donated to the University of Iowa Stead Family Children's Hospital (by way of the University of Iowa Dance Marathon), Children's Cancer Connection, and used to purchase more hands to sell. No logos of donors on the hands, no advertising on the hands, no sales pitches, just our message of solidarity, "Keep Fighting".